Chess 4X
Your favorite characters from the international smash hit Chess are back!

BOTH PLAYERS MUST HAVE KINGS TO START GAME (Sorry there's no warning)
I am still playing with some mechanics, but the primary feature is that you gain a pawn every turn and can combine 4 pawns to make a bishop, knight, or rook. By default, you have 2 moves per turn but that is one of several configurable options.
Controls:
WASD moves camera, scroll wheel zooms, click to select pieces, click to move. Arrange pawns in the shape of how rooks, bishops, or knights move to get those pieces. Like this: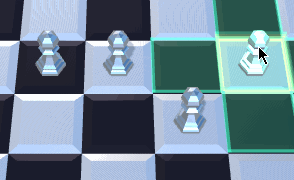 Features:
You can make new pieces and choose your army composition!
"E'pawn'omy" - An economy based around pawns.
Configure your board size!
Clouds!
Maybe some other stuff later!
Known bugs:
'Check' and 'Checkmate' code is all gone in preparation for a more robust solution than my original weak 'good enough for real chess' one (more accurately it never got moved over to the new system)
No way to officially win (see above)
Loading a board from a previous move may let you move pieces that shouldn't be able to.
"Move Every Piece" option simply sets your moves to 100 instead of doing something smart. You will have to end your turn yourself if this option is enabled.
The camera has no limits. You can zoom through the board or scroll out to see how I made the clouds or go left forever.
Dev Log: https://forums.tigsource.com/index.php?topic=65096.0